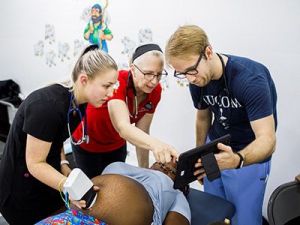 Liberty University College of Osteopathic Medicine (LUCOM) sent two teams overseas to Pontezuela, Dominican Republic (DR) and Roatán, Honduras during their spring break just before the peak of the global COVID-19 pandemic. Both had the mission to strengthen existing international partnerships in global medicine.
"For those with a reputation for full-time medical missions, these international trips in the first and second years of medical school are a great opportunity to see if the student can handle the emotional, physical, mental and spiritual stressors. as well as the cultural differences, "said Dr. Kathleen Bogacz, Associate Professor of Internal Medicine, who led the team in the DR together with Dr. Laura J. Potter, Assistant Professor of Emergency Medicine, directed. "It enables them to pursue missions with more confidence in the future. The faculty-student interactions over a week are also invaluable, personal attention that helps students improve their presentation and research skills. Watching the clinician's mentor care for patients, conduct interviews, examine, and then pray for patients in real time is education at its best. "
LUCOM Sudent Doctors managed clinics in the Dominican Republic in early March. (Photos by Ellie Richardson)
The trip to the DR expanded an existing partnership with Iglesia Comunidad Multicultural (ICM), a local church. For the past six years, ICM has been deliberately active, taking into account the lives of the poorest of the poor in Pontezuela, a neighborhood in Santiago. The area is populated by impoverished Haitian immigrants and Dominicans. By consistently advocating the improvement of the lives of the people in Pontezuela, ICM was able to persuade the government to install electricity, pave the streets and set up waste collection. In addition, ICM was able to raise funds and build the Jubilee Center, a community center in Pontezuela, where much of LUCOM's worldwide medical efforts took place. Several local doctors from the state clinics participated in patient care.
"The Dominican Republic suffers from significant poverty and cultural and ethnic persecution," added Potter. "What a privilege and a joy it is to love these people, to offer them what we can medically, and to share the true hope in Christ."
Some members of the LUCOM team traveled to La Vega, the third largest city in the DR, every day to work in their school clinic with the non-profit organization True Evangelism Always Requires Sacrifice (TEARS).
Destiny Roberts, Class of 2022, a member of the DR team, believes medical mission travel is important for osteopathic medical students as they focus on all aspects of health care.
"There were so many patients who suffered from mental ailments rather than physical ones. It is such an important experience to be able to speak to them and pray with them from a Christian perspective, "she said. "It is very important for medical students to experience cultures that are different from our own to understand the key to cultural sensitivity and ensure successful treatment."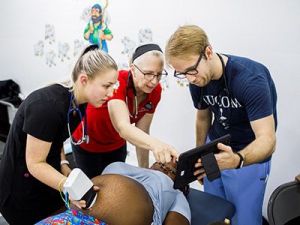 Dr. Bogacz works with student doctors who perform an ultrasound as part of the clinic.
In the DR, LUCOM students and faculties treated patients with hypertension, diabetes, back pain, water-based diseases due to lack of clean water, dermatological irritation, chronic tension headaches, and stomach pain. All patients were exposed to different social circumstances, including some who had been ill-treated.
"When you come across patients in severe social situations, there are no words for the helplessness and loss you feel, especially when you cannot offer resources or solutions," said Raymond Vickery, Class of 2022. "There are so many Reasons For This We can't always just jump in and save people from their circumstances, and it's crippling. However, it is precisely at these moments that I believe that God appears through the hands and feet of the church. Through divine appointments and gifted translators, we have been able to help those we otherwise would never have been able to do. At that point, I knew that God was working through the work we were doing and that He would be there to come by our side when we saw patients and tried to bring His Kingdom a little more to this earth. "
In Roatán, Honduras, Liberty osteopathic medical students volunteered at Clinica Esperanza, worked with local and visiting national doctors, and saw nearly 20 patients per student daily. They examined patients in gynecology, diabetes, pediatrics, general medicine, and the emergency room.
As with any LUCOM Medical Outreach trip, the focus of patient care is on the use of Osteopathic Manipulative Treatments (OMT). Practical interaction with patients enables LUCOM student doctors to evaluate and treat musculoskeletal complaints.
During mission trips, student doctors also share the love of Christ.
"Pretty much every patient we met in Honduras welcomed us as US medical students," said Jeremy Jones, Class of 2022. "What I found most exciting was the power of osteopathic manipulative medicine in the mission field. Honduran culture is one Culture where patients are not used to being touched by their doctors. Doctors traditionally sit behind a desk and prescribe medication. In particular, there was one case where a patient had severe neck and back pain. I was able to use a spray Use-and-stretch technique and do osteopathic manipulation treatment on her and she felt a lot better. She hugged each other gratefully in the end. "
Through an ongoing partnership with Blessings International, LUCOM was also able to provide donated vitamins and medicines for each trip.
"The friendliness and the heart of our students impressed me in a unique way. What a joy to see them sing every day, pray from the bottom of their hearts together, share struggles and joys, and see them develop clinical skills as the week progresses. I couldn't be more proud of her, "Potter said.
On March 10, Liberty University announced a no-travel policy restricting all faculties, staff, and students from university-sponsored domestic and international travel. On March 13, both teams returned to the United States safely and in good health.
Video by Christopher Breedlove of Liberty University College of Osteopathic Medicine